Last month, Suvith S was circling Chennai to promote TutAR Next Reality Classroom, an app powered by augmented reality. It is developed by Thrissur-based startup Infusory, in which designers have covered a wide variety of topics through stunning 3D models – wild boars, zebras and hippos for kindergarteners; anatomy of teeth, skull and muscles for middle school students; and bridges, potentiometers and carnot motors from Wheatstone for high school nerds. These 3D models appear next to teachers on interactive panels — or on Zoom if someone is still taking online lessons — and can be turned and flipped, upside down, left to right, and front to back.
In his usual tried-and-tested strategy, Suvith, 40, who heads up sales and marketing at Infusory, stood in front of teachers at Maharishi Vidya Mandir, a private coeducational school in Chennai, when he asked teachers how they use interactive panels installed in classrooms. He got the answer he was looking for: teachers played videos in class, from YouTube or ed-tech startups. In an almost practiced tone, he remembers telling them, "At the end of the day, these edtech companies and YouTubers are teaching your students, and then what's the point of being a classroom teacher?"
Thomson Tom, Founder and CEO of Infusory, agrees with this position. "If you have a YouTube video, the only role the teacher has in the classroom is to play and pause. That's not how education is supposed to be. Shyam Pradeep Alil, co-founder and Infusory's chief technology officer, believes that the indiscriminate use of bland PowerPoint presentations and borrowed videos in classrooms that began after the smartboard revolution in the 2010s led teachers to lose importance in the classroom. education." There is no student-teacher interaction if all a teacher does is play videos. It's bad for students. They will not develop character.
A year ago, Dr. Meena, then Headmaster of Sree Gokulam Public School in Trivandrum, was convinced by these arguments and started using TutAR's 3D models in classroom learning. "To be honest, I was very happy with the results in the classrooms, especially in the science subjects," she said. "For example, when a teacher teaches a heart, this 3D model comes up right in front of the students, and when standing, they can turn it around and push it. I can actually show students a heart beating, pumping blood, and it's amazing. According to the principal, after using augmented reality in the classrooms, the students increasingly started to interact with the teachers and ask a lot more questions.
"But that doesn't mean they don't need to improve. On the contrary, they should improve," she stressed. "They also need to develop interactive models for social sciences and languages. What they have right now is very limited.
Twenty-seven-year-old CEO Thomson Tom wants TutAR to be a teacher's tool. "We want to empower teachers. With these templates, they can make courses much more interactive than relying on out-of-the-box content. At the same time, it is the feedback from those teachers who use TutAR that helps us improve. We frequently update and add new templates in our app based on teachers' suggestions. »
The creation of TutAR
The TutAR app was launched in 2020 after a few local schools came up with the idea of ​​leveraging augmented reality in classrooms. When TutAR was just an idea – no app, no content – Suvith and co pitched the concept to Nirmalamatha Central School in Thrissur. The administration came on board and asked them when they would be able to provide the application. "Covid has played a major role in enabling technology in classrooms," Thomson said. "Covid made teachers create online courses, made them video producers, made them creative directors, made them so tech-savvy that now when we introduced them to augmented reality, they were actually excited."
With the promise of getting a solution in three months, Nirmalamatha Central School handed over one lakh rupees to the TutAR trio – Shyam, Suvith and Thomson – and the work began. Meanwhile, nearly five more schools have come forward and the first version of the app was rolled out in August with a modest fund of around Rs. five lakh. "We started with zero. Around the time we signed up, we had around ₹5 lakh to ₹6 lakh, and within three months we had an app and a fully-fledged team of around 30 members," Thomson said.
Currently, the founders say TutAR is used by over 200 schools and over 25,000 teachers across India as well as a few dozen teachers from Russia, Egypt and the Middle East. The schools are mainly located in southern India – Kerala, Tamil Nadu and Karnataka – with a few in the north including Delhi, Jammu, Haryana and Uttar Pradesh. TutAR has curated a library of over 5000 3D models. The company also recently raised an undisclosed amount in its funding round from April Ventures and SalesboxAI founder Roy Ranjan, which the company said in an official statement will be used to bolster technology and hire. world-class content. Meanwhile, the company sells a contract to a school for around ₹50,000, in which up to 25 teachers can use the app.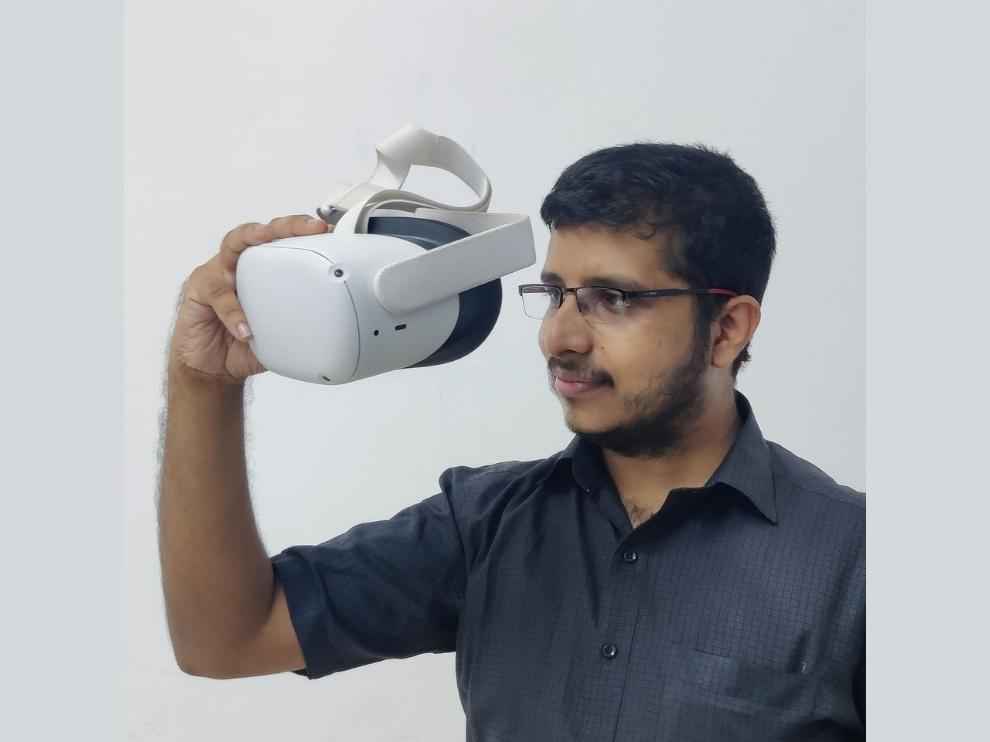 The future of TutAR: Tutarverse
With the expansion plans across India underway, the founders are also changing course. They want to create a metaverse, where students and teachers can collaborate virtually, leveraging augmented and virtual reality. "Online education is here to stay. We want it to make it more interactive and also bring one-on-one interaction between teachers and students as part of online education," Thomson said. The founders plan to deploy the metaverse, or so to speak, Tutarverse, in a few months. Alongside his consuming work, Thomson also has an interesting story to tell. When he was in college, he was the boss; he ran startups on the campus. His parents were concerned. "My parents wanted me to become a banker, which was considered a safe and secure job. Both of Shyam's parents were also government employees; they wanted him to follow suit," said At the parent-teacher conference, Thomson's teachers told his parents that he might be good, but it wouldn't be worth it if the grades dropped.
With a half-laugh and a twinkle in his eye, Thomson said: "Now my parents are advising other young people that they should also apply their brains outside of the classroom, maybe run a startup or two. " It might not need to be said, but anyway here goes: Thomson never entered the workforce, and he's proud of it.
For more technology news, product reviewssci-tech features and updates, keep reading Digit.in.